Putting a Little Color in Their Walk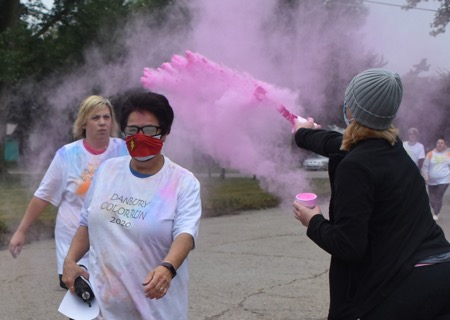 After months of what seemed like cloudless, rainless days, last week was rainy and gloomy. Just about an inch and a half of rain fell during the week, a much needed rainfall.
The gloom and rain did put a little damper on the color run, but those who participated enjoyed adding a little color on that gloomy morning. With a couple dozen signed up and families who weren't signed up joining the walk, almost three dozen were anticipated. The rain and cooler weather did keep some away, but those who walked the 5K walk enjoyed the calm of the morning. Well, calm until they were blasted with colored powder.
By the time the group which ranged from young children to adults and even a dog (who didn't quite make it the entire route) reached the shelter house, they were covered with pink, yellow, orange, green and blue.
Proceeds from the fundraiser are eartagged for new playground equipment for the park.
Above, a couple walkers from Dunlap brace for a blast of color from Hannah Sadler.