Adams Named a Musketeers Hot Shot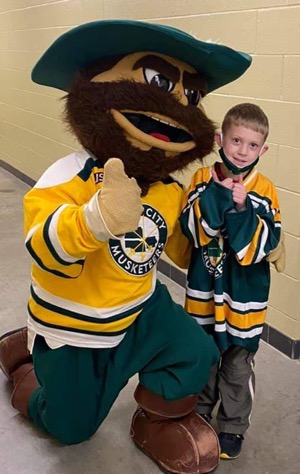 The Sioux City Musketeers played their final regular season game of the year on Saturday. The Muskies qualified for post season play, so their season continues. Eventually the season will end for the hockey team. Eventually the highlights of the season will fade. However, for one little boy and his family, the memories will last much longer than for most fans.
Kamden Adams, son of Jamilynn and Marty Adams of Danbury, was named a Hot Shot for the March 28th game against Des Moines. The MVAO kindergartner and his family including his big brother, Kayden and his baby sister, Mal were given star treatment with a limo ride to the game. Along with receiving a Musketeer jersey, Kamden was able to meet the team and coaches in the locker room and posed with the Muskie's mascot, Charlie Battle. He also was able to hang at the player's bench during the warm up, giving him a pretty sweet view of the players on the rink. Finally, Kamden was part of the ceremonial puck drop.
The six year old said that he was excited when he learned that he was named the Hot Shot. He was a little nervous when he saw the crowd. His favorite part of the entire night?
"When I got to go on the ice with the lady," he said. The moment he was remembering was the puck drop during the opening events.
The Hot Shots program was created with the goal of honoring Floyd Valley Healthcare pediatric patients who have chronic health issues. Kamden has been diagnosed with Autism.
"We are excited to give the kids an opportunity to have a fun time with their family, cheer on the team and just enjoy being a kid again for a night," stated FVH via the Musketeer's website.
Photo by Jamilynn Adams, Thanks, Jamilynn!