Area Youth Do Well at the State Fair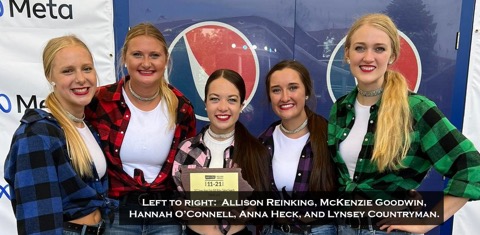 The Iowa State Fair has come and gone, but a few of the area youth earned some special honors of which we want to give accolades. There might be more, but these are the ones of which we have heard.
Cloggers Capture Second
The Bill Riley talent show was held at the Woodbury County Fair, and a group of cloggers danced their way to the finals. There, they captured the second place honors. Included on the team were Hannah O'Connell (daughter of Jennifer and Eric O'Connell of Anthon) and Anna Heck (daughter of Jenny and Jeff Collins of Anthon and the late Kyle Heck).
"I became a part of this group when I was 4 or 5 years old with my friend Anna (Heck)," said O'Connell. "We have been dancing together ever since! The others) have been dancing ever since they were 5 years old as well!"
Going to the same dance academy and being roughly the same age, it was inevitable that the five would end up on the stage together. Of the ladies, one is currently a senior at the Kingsley-Pierson High School while the others have gone off to college.
"During the regular dance season, we practiced twice a week but we actually only practiced once this summer before we competed at the Woodbury County Fair. That is where we qualified to compete at the state level," added Heck. "Our dance teacher Stephanie DeStigter choreographed our routine, and we wouldn't have gone near as far without her!"
The ladies' last hurrah on stage together was their last chance to dance as a group before they parted ways.
"We just signed up to have some fun and dance with each other one last time," commented Heck.
At the Woodbury County Fair, the cloggers discovered they would advance to the big stage in Des Moines. They embraced their opportunity to continue dancing, having fun and expecting elimination at each round. To their astonishment, their act was named to advance through the state finals. There, they were given the second place awards.
"Honestly, when we heard our names being called for each advancement, we couldn't believe it," Anna added. It was such a surreal experience and the memories we made in Des Moines are ones I will hold close forever! When we found out we placed second, we were absolutely shocked. Just being one of the nine acts out of 100+ in the final show was a reward in itself!
"I couldn't believe how far we had gotten into the contest," exclaimed O'Connell. "We would just go out on stage and have fun! Then to find out we placed 2nd overall, we were speechless and so proud of each other! We couldn't wait to call our dance teachers and tell them the great news!"
Rosener Takes Honors Twice
Ashley Rosener, (daughter of Angie and John Rosener of Mapleton) didn't dance her way to the state fair, but foot issues was part of the reason she advanced to the state fair and earned a seal of excellence.
" My (educational) presentation at the state fair was about Brachymetartarsia. Brachymetartarsia is caused when the growth plate of your foot closes early resulting in premature stoppage of growth. This disorder is caused by inheritance or trauma by surgery. My condition was from surgery," explained Ashley.
Rosener had presented her knowledge of Brachymetartarsia at the Monona County Fair in July. The exhibit was awarded top honors, giving her the opportunity to present it in public one more time, this time competing against others at the state level.
"I didn't change my presentation when going to the state fair," continued Ashley. "I just kept practicing before presenting at the state fair."
Ashley used knowledge of the subject, combining research and personal experience, to make her educational presentation. She did a great job and earned a gold seal of excellence.
Ashley also stretched $3 into an outfit to earn her a top 5 honor at the state fair.
"I found my yellow bell-sleeved dress at a garage sale for only $3 at Sergeant Bluff," stated Rosener.
The yellow dress was modeled in the $15 Challenge at the Monona County Fair, taking first place there. With around 150 4-H members showing off their consumer prowess in Des Moines, Ashley had a little more competition than she did in Onawa. Her $3 bargain along with her own skills helped thrust her towards the top of the group.
"I was totally surprised to be in the top five," exclaimed Ashley. "I was fortunate to go last year, so I knew how big of an event it was. Therefore I was very shocked when my name was called for placing in the top 5 for the Fifteen Dollar challenge."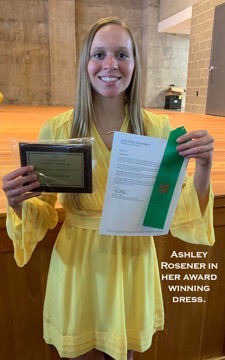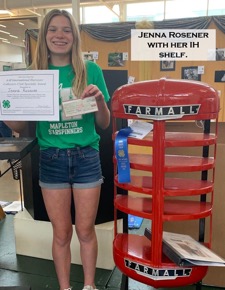 Rosener Turns Trash to Treasure to Cash
Jenna Rosener, the youngest daughter of Angie and John Rosener, also had a memorable exhibit at the Monona County Fair and then Iowa State Fair.
Jenna, with the help of her grandfather, Harvey Thies of Ute turned two Farmall H Tractor grills into a shelf, used to display miniature model tractors. The brainchild of Harvey's, he helped Jenna figure out exactly how to transform the tractor parts into a useful item. Her shelf was a no-brainer to advance to the state fair in the science, engineering, and technology department in 4-H.
Jenna's IH shelf did well at the state fair, earning a blue ribbon, much like many of the projects which advanced from the Monona, Woodbury, and Ida County Fairs. Jenna's went a little further, earning honors at the International Harvester Collectors Club Chapter 5 awards ceremony. This group is very supportive of youth and strives to pass their love of IH on to the next generation. The youth apply with the collectors club for awards; they are not guaranteed a prize, and the cash awards vary in size depending on the project's level of difficulty. Jenna scored $200 on this project.
Congratulations to these ladies and to all who did their best, not only at the state level, but also at the county level.