It's been hot and steamy in the area, a bit too hot and steamy for most people. Air conditioners were challenged to keep people cool. The AC was very welcome in homes and businesses.
But what about the animals who aren't allowed in air conditioned homes?
"We mist them with water," said Dee Ann Paulsrud concerning their cattle. "They have lots of shade, too. We do check on them frequently when it's that hot because their black hides absorb so much heat."
Dee's husband, Ted added that the cattle do have a water hole in the pasture to help them stay cool. They also have automatic waterers. He commented that the pastures, though, are dying from the lack of rain, and some farmers have begun bringing in supplemental feed because of the loss of fresh grass. A little drive out to the pasture seemed like a drive to the western side of South Dakota where the brown grass is more prevalent than the green grass. Their herd of cattle stared at us while they chilled in the shady trees.
So what happens when trees are a little lacking? Farmers make shade.
"A couple weeks ago we put up cattle shades to help keep the cattle cooler," explained Gabby Hamann, 12 year old daughter of Julie and Jason Hamann. Gabby is very interested in every aspect of the cattle industry. She loves helping her dad, uncle, and grandfather with the cattle. She explained that cattle shades are giant umbrellas with tarps measuring 40'x40'."
"When the temperature gets to 90°, either Dad or Grandpa (Darwin Hamann) will check the cattle to see if their tongues are hanging out. If they are, it's a sign that they are getting hot."
Much like the Paulsruds, the Hamanns use sprinklers to keep the cattle cooler. They also have automatic waterers to ensure a supply of cold water at all times for the cattle.
"We feed them 40% in the morning and 60% at night so that they eat more overnight," added Gabby. "They will then eat more when it's cooler at night."
While there are indeed ways to help reduce the stress on livestock, the stress on the crops is a different story. Short of sprinklers in the fields, farmers rely on God's graces with the crops. Well, God's been gracing us with lots of sunshine lately. As a matter of fact, the last measurable rain was July 9th, and that was only .41" of rain. The lack of rain is beginning to be seen in the crops.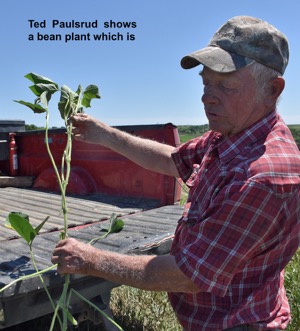 "Before last week I wasn't too worried about how dry it was. The crop still looked good and there were two good chances of rain last week," said Kyle McBride, son of Marcene and Rick McBride who farms with his dad, uncle Jerry McBride and cousin Travis McBride. "Now that we didn't get any rain last week, the crop is showing it. The beans are starting to look thinner, and they have a lighter green color to them. The corn has pollinated well throughout the heat surprisingly."
Looking at the fields from the road, they look okay. A tour of the Paulsrud fields demonstrated McBride's concerns. While the corn looked pretty good and has indeed pollinated well, the beans are definitely feeling the stress from the heat. Leaves are curling and reaching to the sky like they are trying to reach the clouds and water. Bean pods are developing, but some blossoms have shriveled up instead of transforming to pods, and Paulsrud pointed out that normally there are many more pods per plant than the plant he pulled to inspect.
Ted and other family members had just come home from their Baby Ragbrai (that story will be coming later). Always a farmer, Ted spent time inspecting the fields while driving the support bus for his team.
"We rode from Holstein to Storm Lake and Emmetsburg towards the Minnesota border and to Lake View. The crops look much better north of here. But going south towards Carroll, the fields look much worse," commented Ted.
"If we don't get moisture soon, it will be hard to fill out the ear to its potential," warned McBride. "With .7" of rain in July so far and temps in the upper 90s, we have definitely lost yield."
While it's looking very dire in the fields and even in the yards around town, Ted did add a little bit of hope.
"The seed companies have been working with genetics to create crops which will withstand extreme conditions such as high temperatures and no rain. We haven't had a year to test these genetics. This year might be one of those," added Paulsrud.