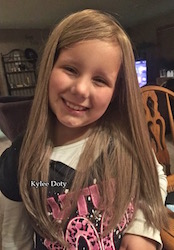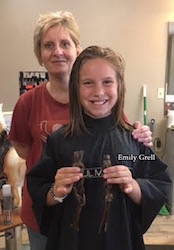 Making donations of outgrown clothing is a pretty common practice. After all, an outgrown shirt won't magically grow larger, so why not help others while adding space?
So, using that mentality, it seems that donating hair when you've overgrown it would make sense, right? Well...sure....if you can grow out at least 8" of hair and follow other rules depending on the organization's requirements. Some don't allow permed. Some think bleaching is a nono.
This story has been months in the making. Seriously. Just when we are ready to roll with it, something else came up. Luckily, all who shortened their hair still have short hair. Whew! This story started with a story on 2 people and has now grown to 4 people.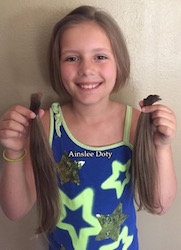 AINSLEE
Danbury Catholic student Ainslee Doty, daughter of Megan and Jeremy Doty of Danbury had been wanting to donate her hair for many months and wanted to find an organization that didn't charge the recipients of the wigs they made. In the end, Ainslee and her parents decided on the organization Children with Hair Loss. She's been growing her hair out since August of 2014. That August was also the first time she had donated her cut hair.
"I wanted to donate my hair because some kids don't have any and I don't need mine," Ainslee maturely said.
Ainslee has been wanting shorter hair for a while, so on June 4, she had it chopped off. Nine inches was taken off.
One of the reasons donating her hair is so important to Ainslee is that there's a chance of Ainslee's hair will be used to make a wig for her identical twin sister, Kylee. Kylee was diagnosed with brain cancer in October of 2013 and lost all of her hair due to the treatment. Over the last five years, it still hasn't grown back properly.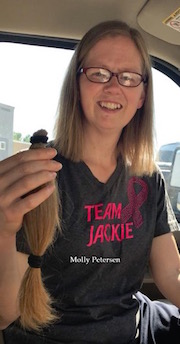 MOLLY
After Ainslee cut her hair, her mom posted a picture of it on Facebook. Molly Petersen, daughter of Vickie and Marvin Buettner of Anthon and wife of Eric Petersen of Danbury saw the post. She had also been growing her hair out for about two years and had been thinking about cutting her hair all winter. Molly did her own research into the organization. Like Ainslee, Molly decided that the group was a good one. Although Molly believes that approximately 8" of donated hair was removed from her head.
EMILY
Emily Grell, daughter of Jamey and Anna Grell of Danbury, decided she, too, would cut and donate her hair. This was Emily's first time donating her hair. She had been growing her hair out since she was seven. Her sister, Amanda, thought Emily should think about it. With the nudging of her sister, Emily decided she wanted to be able to help kids who didn't have any hair, like one of her neighbor friends who was undergoing chemo treatment at the time. Shortly before her eighth birthday, Emily began growing her hair out.
As the years went by, Emily's hair got longer, and heavier, and hotter. Now, a few weeks shy of three years later, Emily was able to cut off and donate ten inches of hair. Her hair now brushes her shoulders, instead of hanging down her back. Emily donated her hair to Pantene Beautiful Lengths, which has a length requirement of only eight inches.
Some of the things Emily looks forward to with her brand new shoulder-length hair include finally being able to have it curled by her older sister who wouldn't curl it when it was over twelve inches long and being able to take care of her hair on her own.
KYLEE
Yes, this article has a teeny tiny twist to it. Kylee, daughter of Megan and Jeremy Doty of Danbury has not been able to grow her hair back since beating cancer back in 2014. Her own hair is very slowly returning, but the girl was ready for something she could braid and style. Her parents helped her apply for a hair piece from Children with Hair Loss on August 22nd. Last Friday she surprised her peers with long hair at school. Children with Hair Loss asked if Kylee had any preferences, and her only wish was for long hair.
Kylee excitedly exclaimed, "I love it!" Her teacher had commented that Kylee loves swinging here locks.
They made everything so easy and were so fast with sending Kylee's hair. The hairpiece is beautiful. What they (Children with Hair Loss) do for kids is amazing," said Megan.
It takes approximately 50 donations to complete one hair piece. Chances are that Kylee's new piece doesn't include any from Ainslee this time. However, she can receive a replacement every year until she's 21 so perhaps a later one will include actual sister strands.
Zoe Jessen contributed to parts of this story. Photos submitted by loved ones.