Kylie Bohm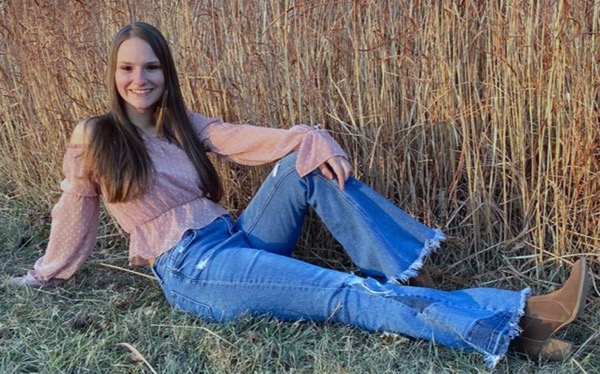 By Anna Huisinga
Kylie Bohm is a senior attending MVAOCOU. She is 18 years old and was born on August 7th, 2004. Kylie's parents are Angel and Luke Bohm of Charter Oak, very close and loving parents. Kylie has two siblings, Hannah and Greyson Bohm. If you didn't know, Kylie is a very kind and thoughtful person, who does anything to please others and make them smile. Her friends would describe her the same way but also include short. She has a lot of passion and creativity, even her 2-year-old, bearded dragon (Ozzy) would think the exact same. Kylie drives a 2005 Hyundai Santa Fe in the color blue. In her 4 years of high school, she has been in Student Council, Football cheerleading, and Jazz choir.
Kylie would say her favorite teacher isn't only one but two, Mr. Smeltzer and Mrs. Hueschen. She says they were like her school parents. Kylie would say her favorite high school memory is the tailgate sophomore year because it was something they planned themselves. All of the classmates were there, with a few under and upper classmates. Everyone listened to music, danced, laughed, and had a good time.
Kylie's plan for after high school is to attend BVU (Buena Vista University) to study English and become a traveling journalist and hopefully someday, a novelist. She hopes to see herself writing from home in a beautiful house with her future family 10 years down the road. If Kylie had any advice for future high school students, she believes the words of this quote by Max Depree are spot on, "We cannot become what we want by remaining what we are." Good luck to you in all you do, Kylie!

Jaxson Welte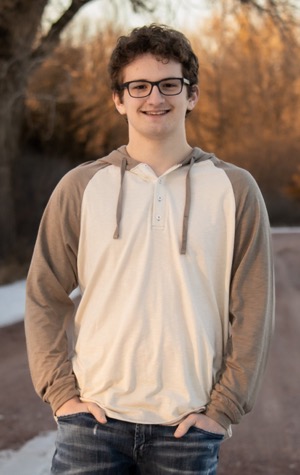 By Logan Reed
"With great power comes great responsibility," is a favorite quote of senior Jaxson Welte, this week's Senior Spotlight. Jaxson has 3 other siblings: Mia, Delani, and Ford. His parents are Niki Ford and Nick Welte. Jaxson has been involved in many things over the past four years at MVAOCOU such as wrestling, golf, football, and has also joined the jazz choir in the past year. His favorite memory was going to State wrestling with TJ Nutt and helping him warm up. Jaxson plans to attend ISU in the fall where he will pursue his interest in financing. He says his biggest goal in life is to get rich. In all things he is involved his favorite thing to do is sleep and get rich.
Good luck achieving all of your goals, Jaxson!

Miss Hermsen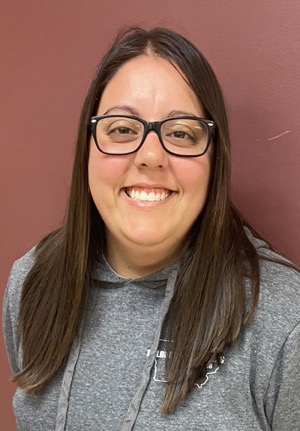 This week's teacher spotlight focuses on the Science department, specifically, Miss Brittany Hermsen. Miss Hermsen was born and raised in Danbury, Iowa. After she finished high school she went on to Wayne State College. MVAOCOU was her first teaching job after graduating and she has been here for eight years. Her favorite subject to teach is Human Body System/Human Anatomy. Her favorite thing about teaching at MVAOCOU is working with the staff members that were here when she went to school and working with some of the people she went to school with. Another one of her favorite things about working at MVAOCOU is the wonderful students. Miss Hermsen shared with us that she is taking on a new adventure: this will be her last year teaching here, she will be moving and teaching at Underwood High School next fall. We wish you all the best in your future endeavors, Miss Hermsen!

Jayme Fox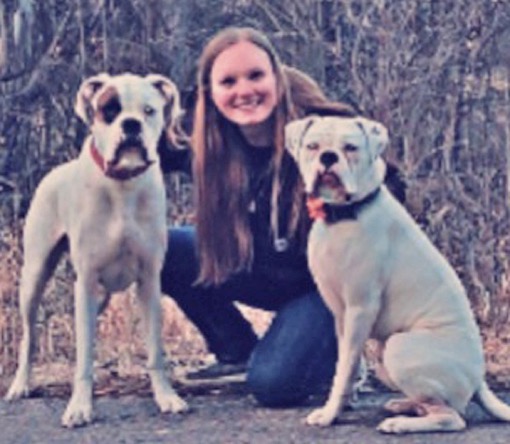 By Sophia LeClair
Senior Jayme Fox has been attending MVAOCOU since 3rd grade. Her parents are Chelsea and Jason Fox and she has 5 siblings: Destiny, Carter, Gracie, Elijah, and Michael. She also has two cute boxers named Loui and Rocky. Jamye usually drives her red Monte Carlo but is currently driving her family's Jeep. Her favorite quote comes from Kimberly Guilfoyle, "Anything is possible if you put your mind to it." A couple of pieces of advice Jayme would like to share with the younger generations would be to stay on top of schoolwork. She also thinks everyone should take choir in high school as it is not even close to middle school choir! You do have to put work into it but it's achievable. Jayme also stated that you should try new things and get out of your comfort zone. As a freshman, you come in biting your tongue because being in a school with older kids all over again is a little intimidating. Don't be afraid to reach for the stars, join new activities, and be involved in your friend group. Enjoy school functions with your friends because high school blows by faster than it looks. "As a freshman, I used to think 4 years would take forever but it feels like just yesterday I walked through those doors, and now I'm about to be done," Jayme stated. Her favorite teacher is Mr. Smeltzer because "He lets me grow as a person as well as vocally and makes his classes fun." She was involved in choir, band, honor band, softball, and football cheer. After she graduates she would like to take a gap year to get a better-paying job. Her favorite memory during her high school career would be when her cousin Ian would get in trouble in the parking lot, specifically when he got into trouble with the siren on his truck during her sophomore year. Her friends would describe her as talkative and a good listener as well as sometimes a little dramatic. Jayme is a really good person overall and I wish her luck in her future and I hope she strives for her dreams.

Maggie Hoskins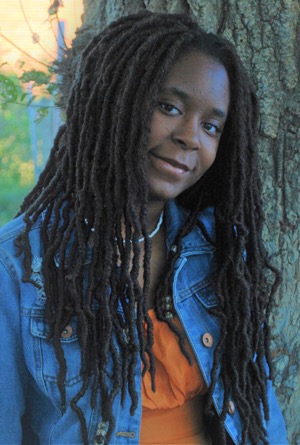 By Halynn Boettger
Magdalena Hoskins, daughter of Adam and Vera Hoskins, is featured in this issue for Senior Spotlight. Maggie has five other siblings: one older, Elaine, and four younger, Katie, Catcher, Darla, and Mira. The family also has a mini Bernedoodle. During her time in school, Maggie has been a part of football and wrestling cheer and softball. She enjoys cheering the most because "you make a lot of friends and get close with the other girls on the team." Maggie's favorite high school memory was going to Costa Rica with her favorite teacher, Senora Babl. "Senora makes Spanish interesting to learn and I don't think I would do well if it were anyone else," Maggie explains. After high school, Maggie plans to attend college BYU Idaho to become an ultrasound technician. Ten years from now, Maggie hopes to be married and have a family. If Maggie could give any advice to underclassmen it would be, "Don't be afraid to ask for help. It is not being abrupt and people will help."

Gabriel Bohlin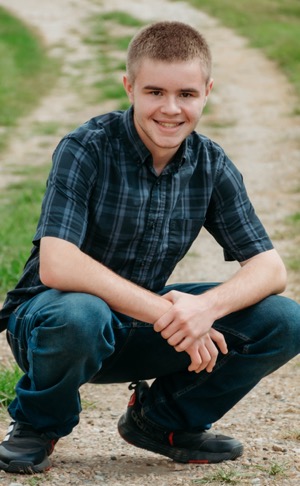 By Cotton Bruno
In this Senior Spotlight, we focus on the soon-to-be professional boxer, Gabe (Gabriel) Bohlin. Gabe is the son of Jason Bohlin and Stacey Ashworth, he also has two siblings named Sky, the oldest of them who has already graduated and the younger sibling Sunshine who is a freshman this 22-23 school year. Their family has three dogs which they have named; Boris, Gretchen, and Morgan, as well as six cats that have all been left un-named for the time being. Gabe has said that he drives a Chevy Tahoe but he instead opts to ride the bus to and from school. At school, his fellow classmates and friends would describe him as funny, awesome, and a boxer. The reasoning behind "boxer" is due to Gabe training often and also posting updates about becoming a better boxer online for his friends and family. When Gabe talks about our school he often says that his favorite teacher is Mr. Miller Gabe has said that the reasoning is, "He is chill, nice, and also very understanding". He also likes to reminisce on his favorite high school memory which is our school's Winter Formal this year. "Stop stopping yourself" is what Gabe says is his favorite motto. He says this because the only thing stopping someone from reaching their goals is often themselves. We wish you all the best, Gabe!

Calvin Homolka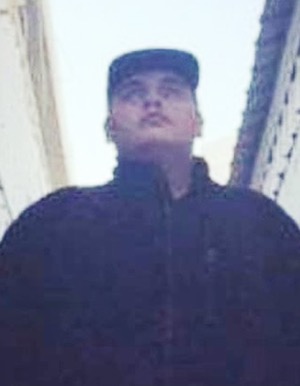 By Annamarie Mallory
Calvin Homolka, our senior spotlight this month, says his biggest supporter is his grandma, Pauline Schneider, who he lives with in Charter Oak, along with "a big fluffy cat named Kabuki". While in high school, Calvin has been involved in wrestling and football, and has been working as a custodian for the school his senior year. Calvin's favorite memories of high school are the meals the teams would enjoy together and the memories they all made. Calvin's advice to underclassman is "YOLO, follow your dreams, don't let anything discourage you, and if you want to try a sport, go out for wrestling, because it gets you into amazing shape." Calvin feels like his favorite staff member at MVAOCOU is Nancy Hahn because she is always there to have a good conversation or expand your knowledge with a good book. If you know Calvin, you may know that he also goes by "Lil Lump" which in his performer name. Calvin says that he really has always had a love for music and the expression and emotion you can find in it. When feeling discouraged he reminds himself of all his goals and everything he has left to see in life, like his plans after high school, Calvin hopes to go to New York City to pursue his music career dreams. He wants to one day be rich and be able to buy lots of new things. Calvin ended his interview by saying he wants to give a shoutout to his grandma, because he doesnt know what he would do without her. If you want to help Calvin follow his dreams, check out his music. LilLump on YouTube. Best of luck pursuing all of your dreams, Calvin!

Logan Hinrickson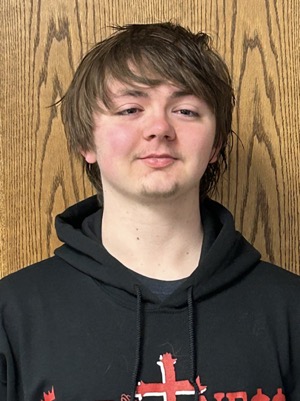 The son of Rustin and Jo Hinrickson, Logan has a younger sister named Emily and a younger brother named Nick. Additionally, he has two cats, Suki and Porkchop, along with two dogs, Gelvis and Sady, where he resides in Smithland.
Logan was involved in track his freshman year. His favorite high school memory was riding on the class float for the Homecoming parade this year. It was funny because they didn't have any candy, so they pointed at Jaxon Hopkins, who was also riding on the float, and told people as they passed by, "Sorry, no candy, but look, he has a mustache!" He also enjoyed spending time with his friends while in school. Logan said that his favorite teachers have been Mrs. Paulsen and Mr. Gill because "they always push you to do your best and work hard."
After graduating, Logan is looking forward to working for KP Construction based in Sergeant Bluff. Best of luck to you, Logan, in all that you do!