Nuns on the Run
From the September 7, 2011 issue of the Danbury Review:
It all started with a box office movie and a small town variety show. In 1992 Sister Act hit the big screen with rave reviews. The movie, focusing on a Vegas singer hiding from the mob in a convent and turning the below average choir of nuns into a sensation, did more than make the "nuns" in the movie stars. The idea of singing nuns inspired a group of Catholic, Methodist and Lutheran women, most of whom are married with children and grandchildren, to get in traditional garb worn by sisters, name themselves the Ding-A-Lings and lip sync God-centered songs on stage at Danbury's Corn Days variety show in 1994. The Danbury ladies were also a hit and got back in their habits in the summer of '95 to perform during RAGBRAI when it wheeled through Danbury, and their fan base exploded. Seventeen years later and with a new name (Nuns on the Run), the group is still as busy as ever entertaining the crowds.

Members
Harriett Anderson, Pat Barry, Annetta Bjorholm, Bonnie Boyle, Sharyl Bruning, Arlene Cameron, Linda Colbert, Deb Ernst, Rita Fitzpatrick, Darlene Flanigan, Carolyn Frahm, Sue Ham, Julie Hamann, Rita Hamers, Carol Lacey, Betty Lansink, JoAnn Nielsen, Sandy Ortner, Linda (Dirksen) Pickreign, Charlene Pine, Helen Pithan, Carolyn Reitz, Lois Schimmer, Tootie Seuntjens, Cub Sexton, Sonya Sherrill, Lorna Uehle, Martha Uhl, Rosie Wenger, Pat Welte, Jan Wolterman

Please let us know if we missed anyone.

From the October 9, 2013 issue of the Danbury Review:
Nineteen years ago the Nuns on the Run put on their habits and began entertaining. RAGBRAI was their first venue, under a different name. Corn Days came next, and suddenly phone calls requesting their performance came pouring in. These Ladies of Perpetual Kindness have racked up thousands of miles on their vehicles and hit multiple states in the past 19 years. Over $125,000 has been given to nonprofit organizations because of their talents.
It seems kind of ironic that on Corn Days weekend the Nuns have stopped running. Saturday night they had their final performance and hung up their habits. It is also ironic that on Saturday they said goodbye to one of their own, the third this year. Because of the loss of nuns in their "convent" and some of those who have been running for awhile wanting to retire, the group has sung their final song.


---


They have been called The Sisters of Mercy, The Ladies of Perpetual Kindness, The Ladies of Perpetual Mercy as well as the Nuns on the Run, and they have done more than put Danbury, a town with a population of 348 in Northwest Iowa, on the map. With over 100,000 miles on vehicles since their inception, they gave over $125,000 back to their community and the surrounding towns. The Nuns kept enough money from their performances to pay for their expenses and donated the rest to organizations in the community, special interest projects such as natural disasters, and for several years, gave two high school seniors from the local high school scholarships.

From the April 16, 2008 issue of the Danbury Review: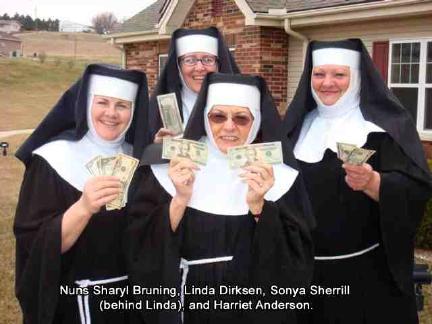 Philanthropy. A big word which meant a lot of good for a lot of organizations in this area. The Nuns on the Run have kept up their annual generosity by donating to a number of non-profit groups.
The Nuns on the Run, a group of mothers, grandmothers, and aunts who belong to the Catholic, Methodist, and Lutheran churches, have been running for at least a dozen years. They have vowed to use the fee they receive from their gigs to help the organizations in their own community. They keep enough money to pay for their transportation and any supplies needed. Last year's intake totalled $6,250 in donations.
The biggest benefactor was the Danbury Community Club who received $2,000 to pay for the inflatable games which were used at Danbury's 125th celebration last year. Danbury Fire Department and Danbury Ambulance Service each received $500. Scholarships for $500 each were given to two MVAO graduates last May. St. Mary's Catholic Church, Danbury United Methodist Church, and St. Matthew Lutheran Church, all of which have members who are Nuns, were each given $450. The senior citizens meal program benefitted with a $200 donation. Five families had a merrier Christmas as they were adopted with $100. Willow Dale Wellness Center and Maple Heights Nursing Home were given $100 each for their entertainment funds.


A group of very normal ladies
That love to dance and sing,
Got together one fine day
To teach the world to swing.
Their attitude for living
Is always bright and gay,
Their steps and songs will cheer you;
They'll brighten up your day.
They aim to spread some sunshine
And make a dark world bright.
'Cause what you do for others
Can set the whole thing right.

          --Alma Krueger