Fire Destroys Machine Shed and Its Belongings, Brings Communities Together To Help
It was cold Friday morning. Very cold. At 8:00 a.m. it was a whopping 4° with a wind chill of -4°. Except at the Warren and Kathy Dirksen farm just east of Danbury. Around 8:00 a fire was seen coming from the machine shed, and Danbury Fire and Danbury Ambulance were alerted. Not too long after the call came in, white smoke could be seen looming in the sky while downtown. Minutes later the smoke was as black as the tires of the machinery in the shed. The fire raged, and Danbury Fire called for mutual aid. Before the blaze was calmed, firemen from Danbury, Mapleton, and Battle Creek's departments along with Woodbury County Emergency Services were fighting side by side to keep the fire from spreading to other buildings including the Dirksen's home which was under construction but nearly ready for the family of 6 to move into. The machine shed and the contents were a total loss, but the family feels blessed anyway.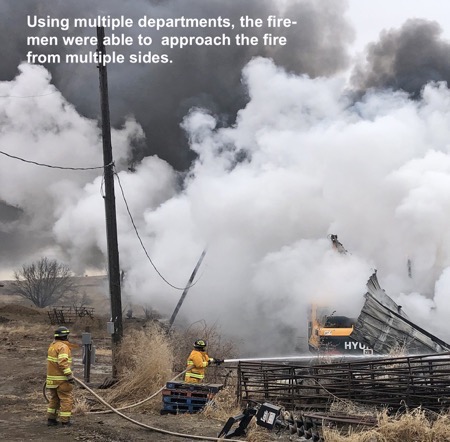 "We were thankful that no person was injured in the fire, although we understand that there may be a firefighter who was receiving prayers on the prayer tree," commented Matt. "The equipment can be replaced and so that really isn't important."
"This was a good reminder how so many people volunteer and drop everything that they are doing to help others when called," added Matt. "It was evident the amount of time these firefighters put in throughout the year with the speed and ability of their response."
Once the fire subsided and the fire departments had gone home, the Dirksens were left with a smoking pile of ruins. They weren't at all alone, though. Neighbors and friends stopped by and asked if they needed anything and even offered their equipment to help them out. The offers of help have continued in the days since the fire.
"Many others have reached out just to check in on us. We are so blessed to live in this small community that we do," said Matt. "We would just like everyone to know how thankful and grateful we are for all of them."
Photos by Matt Dirksen. Thanks, Matt!