Danbury Fire Department Receives Grant from Farmers Mutual Insurance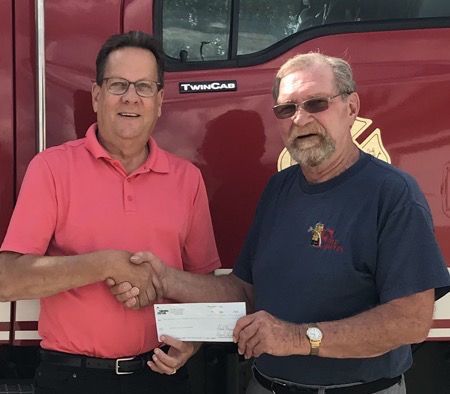 Every year various citizens in the area are thankful to see the Danbury Fire Department roll up in their fire trucks to help turn unwanted fiery flames into embers and remnants of an out-of-control fire.
Earlier this Fall, the Danbury Fire Department was thankful for the ability to help purchase some much needed turnout gear for these firefighters.
The department received a grant totalling $1,500 from Farmers Mutual Insurance of Hull. They applied for the grant through their insurance agent, Mark Boehm of McClintock-Boehm Insurance in Mapleton.
Turnout gear is a very essential need for firefighters. The gear which includes the pants and coats protect the firefighter from harm during fires. Because of its fire and heat resistance, this gear includes a hefty price tag. Just the coat and pants retail for over $2,600. They are not immune to damage, thus needing replacement at times. The grant along with donations will help the department with their clothing replacement needs.
Above, Mark Boehm of McClintock-Boehm Insurance hands a grant check to Danbury Fire's Chief, Bob Welte.
Photo by Sherry Welte. Thanks, Sherry!