Rosener Sings at Trump Rally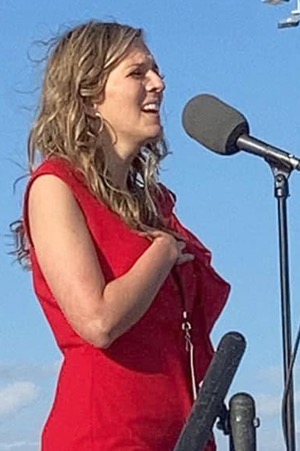 It's not what you know, it's who you know. A phrase used to explain how people achieve success. This phrase is accurate frequently, but just as frequently, you have to have some talent in order to achieve that success.
Angie Rosener has that talent. Angie Rosener also knows the right people to be able to share her talent. This knowledge and talent landed her a chance to rub elbows with some very influential people at President Donald Trump's rally held at the Des Moines airport. Not only would she get to meet many dignitaries, but she, for a few minutes, was front and center with all eyes on her and the American flag. Angie was chosen to sing The National Anthem at the rally which had 10,000 people in attendance.
"I'm so thankful for the experience I was given," said Rosener. "I got the idea to ask (to sing at the rally) because this past January, Denison High School choir teacher, Kandy Thompson sang for a rally. She inspired me to give it a shot, and I'm so glad that she did."
Rosener, a music teacher at Schleswig who teaches TK-8th grade vocal music and 5-8th grade instrumental music, contacted State Senator Jason Schultz from Schleswig and asked if they needed someone to sing The National Anthem for the Trump rally. Knowing Rosener as his daughters' former music teacher and a fellow parishioner at their church, Schultz put in the request, and an hour later, he let her know that she had the job if she wanted it. The person in charge of finding someone to sing the Anthem had planned to find someone to sing at that moment, so the timing was perfect. Rosener, with excitement and a little nervousness, reached out to her Facebook friends to share in her excitement and to put out the request for help with clothes, hair, and makeup. The response was overwhelming with numerous people offering clothes which would fit a patriotic theme. Angie Schrunk's dress was the perfect dress for the singer.
"I saw God's timing play out in front of me over and over throughout this whole experience," commented Rosener. "One of the greatest things about this whirlwind event is that I felt so much love and support from people reaching out. I have never heard one negative comment, but instead, words of congratulations from people with different beliefs and views."
Along with Schrunk's dress, Ashley Beeck rearranged her schedule to do Angie's hair and Daytona Jo Wehr did her makeup at Trendue in Ida Grove.
Angie had a small group of supporters who went to the rally with her. Her mom, Lynette Thies; aunt and uncle, Leann and Brian Henschen; and her cousin, Kimberly Stieler went to Des Moines with her. She and Lynette were seated in a special section to the side of the stage.
"We chatted with a few of the bodyguards, saw secret service everywhere, and the sharp shooters in the back. Former Governor/Ambassador to China Terry Branstad was in front of me, Governor Kim Reynolds and her husband, Kevin along with Lieutenant Governor Adam Gregg was behind me, as well as Senators, Congressmen, etc. It was surreal."
Soon, it was time for Angie to lead the crowd in the Anthem.
"It was super windy at that time, and my hair was whipping all over the place," she said. "At one point, I had a piece of hair fly into my throat and about gag me while singing."
Her moment in the spotlight over, Angie and Lynette sat in the front row for the remainder of the rally. The ladies danced to the music, laughed, took selfies, and had fun.
"An older lady and her husband behind us told me I did a good job singing, and I later found out that her son works in the White House and has daily briefings with the President," added Rosener. "I couldn't believe the company that I was in.
"Then the president arrived on Air Force One. What a grand entrance! I've never been to a rally before and had never seen a president before. It was an unforgettable night!"
Angie and her husband, John live in Mapleton. Their daughters, Ashley, Sara, and Jenna attend MVAO/MVAOCOU schools.
Photo by Lynette Thies. Thanks, Lynette!