Shea Inspired by Friend to Grow Out, Donate Hair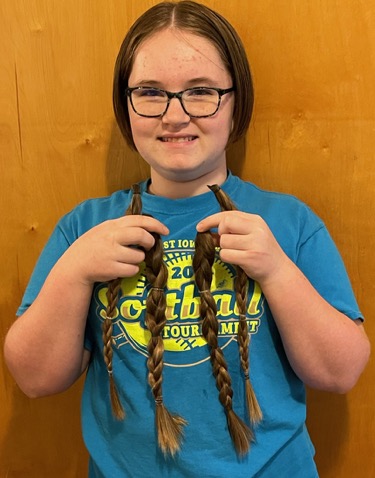 People instinctively would do almost anything for a friend. Make a meal for a sick friend. Drop off groceries. Drop in to see how they are doing or give them a call. You get it.
Kristen Shea didn't do something for a friend, but she did something because of a friend.
When Kristen was a second grader, first grader Kylee Doty was recovering from an aggressive brain tumor. The treatment was also very aggressive. The daughter of Megan and Jeremy Doty was the victor over the tumor. Unfortunately, the treatment not only did a number on the tumor, it also did a number on Kylee's hair.
Kristen, being just a second grader, didn't have much options to help her friend. She didn't have resources to give a monetary donation to her. She could bake something with the help of her mom, Nicole. But she was too young to drive to see Kylee. She had to rely on her parents, Nicole and Sean to get her places from their rural Danbury home. But there was something she could do. It would take a bit of time, but it required no money and would help other kids like Kylee. She began growing out her hair.
"I donated it to Children With Hair Loss," said the twelve year old. "I donated my hair there because Kylee Doty uses that place."
According to their website, Children With Hair Loss is a non-profit organization that provides human hair replacements at no cost to children and young adults facing medically-related hair loss. When a child's hair is lost due to cancer treatments, Alopecia, Trichotillomania, burns, etc., the painful effects are far deeper than just cosmetic. Each year, the number of children requesting our hair replacements increases."
The organization accepts donations of hair made in braids or ponytails. The minimum length of each donation is 8" but any size and any type of hair is accepted. Kristen far exceeded the minimum, giving braids longer than 12" to the organization. These braids, cut on September 12th by Jane Ingram will be combined with other donations to create a wig for a child who needs a hair lift because of medical issues.
More information on Children With Hair Loss can be found at childrenwithhairloss.us.