Meet the MVAOCOU and MVAO Sports Teams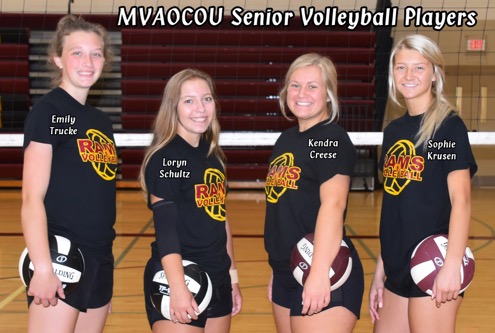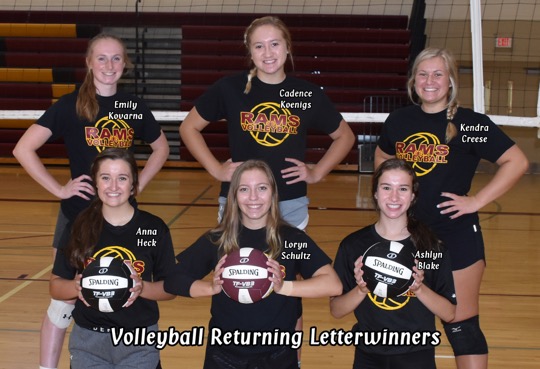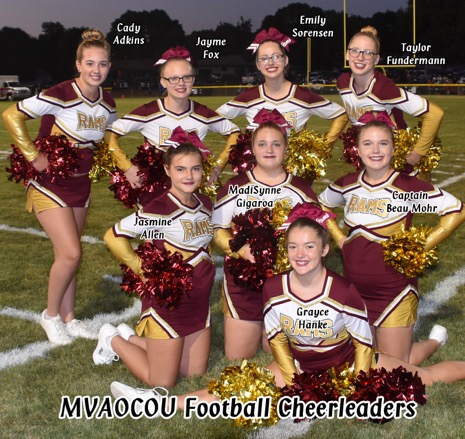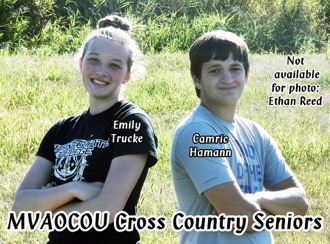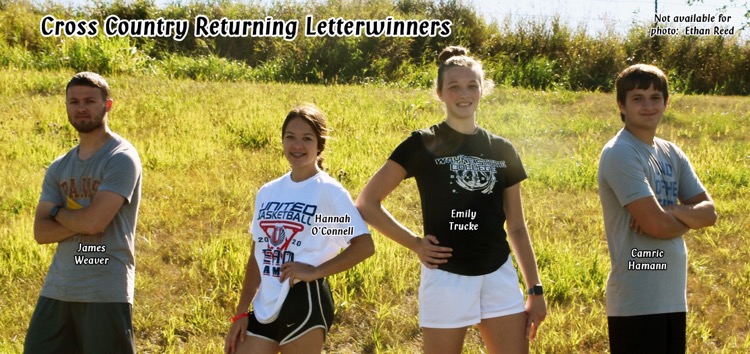 Meet the Volleyball Teams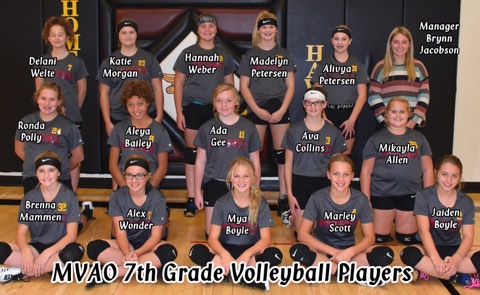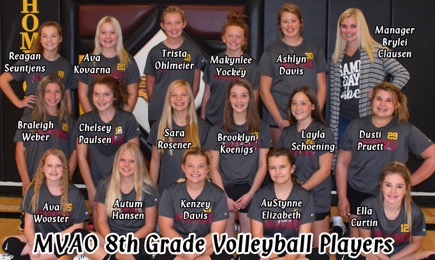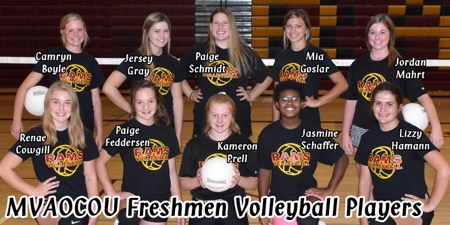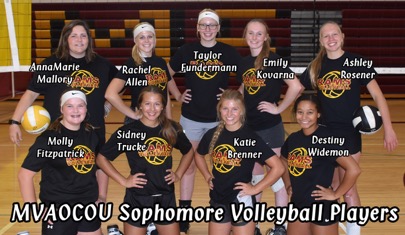 Meet the Cross Country Teams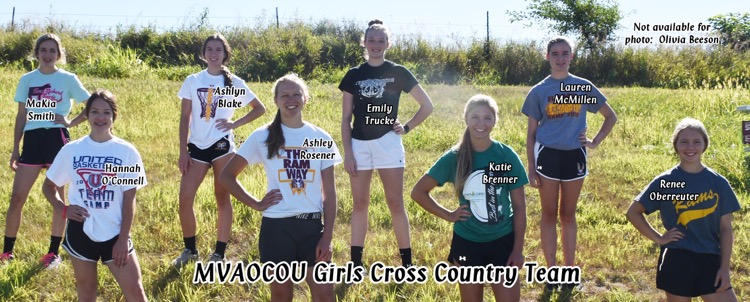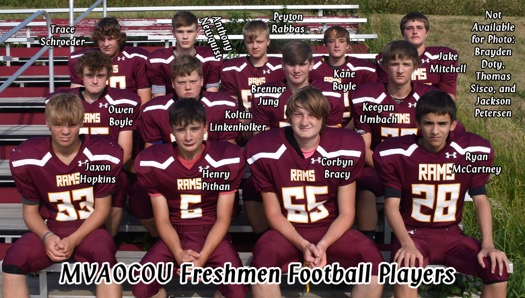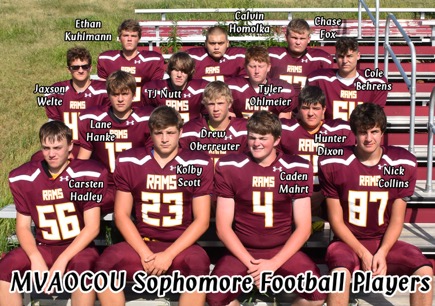 MVAOCOU Varsity Football Highlights
| Rushing: | Carries | Yards | TD | Longest TD |
| --- | --- | --- | --- | --- |
| Brady Seuntjens | 12 | 74 | 1 | 95 |
| Jaxon Hopkins | 2 | 5 | 0 | 0 |
| Drew Oberreuter | 1 | 1 | 0 | 0 |
| Kolby Scott | 4 | -1 | 0 | 0 |
| Kalvin Prell | 6 | -3 | 0 | 0 |
| Justice McCartney | 4 | -7 | 0 | 0 |
| Passing | Attemp | Comp | Yards | TDs | INTs |
| --- | --- | --- | --- | --- | --- |
| Brady Seuntjens | 7 | 2 | 31 | 0 | 0 |
| Kolby Scott | 1 | 0 | 0 | 0 | 0 |
| Receiving: | Receptions | Yards | TDs | Longest TD |
| --- | --- | --- | --- | --- |
| Nick Collins | 2 | 31 | 0 | 0 |
Tackles:
Total
Solo
Sacks
Tackles
for Loss
Kolby Scott
6
4
0
0
Drew Oberreuter
4.5
2
0
0
TJ Nutt
3
3
0
0
Will Forbes
2.5
1
0
0
Carsten Hadley
2.5
1
0
0
Nick Collins
2.5
1
0
0
Ryan McCartney
2
2
0
.5
Kalvin Prell
2
1
0
0
Brady Seuntjens
2
1
0
0
Cole Behrens
2
1
0
0
Ben Schram
2
0
0
.5
Caden Mahrt
1.5
0
0
.5
Hunter Dixon
1
1
0
0
Calvin Homolka
1
0
0
0
Adam Mitchell
1
0
0
0
Kane Boyle
.5
0
0
0
Chase Fox
.5
0
0
.5
| Fumble Recoveries: | Recovery | Yards | TDs | Longest TD |
| --- | --- | --- | --- | --- |
| Kolby Scott | 1 | 0 | 0 | 0 |
| Carsten Hadley | 1 | 0 | 0 | 0 |
| Kick Returns: | Number | Yards | TDs |
| --- | --- | --- | --- |
| TJ Nutt | 3 | 35 | 0 |
| Drew Oberreuter | 1 | 20 | 0 |
| Justice McCartney | 2 | 17 | 0 |
| Kicking: | Kickoff | Touchback | Yards | PAT |
| --- | --- | --- | --- | --- |
| Brady Seuntjens | 2 | 0 | 70 | 0 |
| Thomas Sisco | 1 | 0 | 30 | 0 |
| Punts: | Number | Yards |
| --- | --- | --- |
| Brady Seuntjens | 9 | 261 |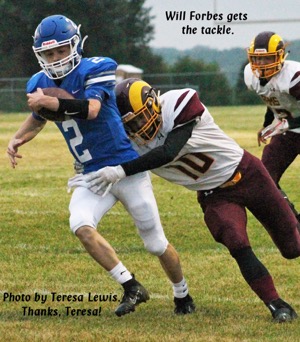 Underwood 51 - MVAOCOU 6
The Rams traveled to Underwood on September 11th to take on the Eagles on their Homecoming night. The Eagles ended their special week with a big win, going 3-0 while the Rams dropped to 0-3 on their record.
The Rams had some highlights from this evening. Their home run came on a quarterback sneak with Brady Seuntjens running 95 yards for a touchdown. Kolby Scott and Carsten Hadley both jumped on fumbles to give the Rams the ball. Ryan McCartney and Chase Fox used teamwork to earn a tackle for a loss.
The top and lone receiver for the night was Nick Collins with 31 yards in 2 carries. Scott led the Rams in tackles with 6.