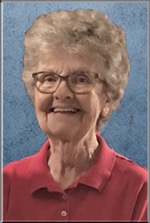 Jo A. Thies, age 80, of Mapleton passed away on Thursday, October 14, 2021, at Maple Heights Nursing Home of Mapleton.
Visitation will be held from 4:00 to 6:00 p.m. with a Prayer Service at 6:00 p.m. on Tuesday, October 19, 2021, at the Armstrong – Van Houten Funeral Home of Mapleton.
A funeral service will be held at 10:30 a.m. on Wednesday, October 20, 2021, at St. Paul's Lutheran Church of Ute. Rev. Nathan Peitsch will officiate. Committal Services will follow at St. Clair Township Cemetery of Ute.
The Armstrong - Van Houten Funeral Home of Mapleton and Ute are in charge of the funeral arrangements. Condolences may be sent online www.armstrongfuneral.com.
Jo Ann Thies, the daughter of Frank and Trace (Bergerson) Wimer, was born on March 10, 1941, in Soldier. She grew up in the Moorhead and Mapleton area where she graduated from Mapleton High School with the class of 1959.
On February 14, 1960, Jo Ann married the love of her life, Irvin Thies in St. Matthew Lutheran Church in Mapleton. The couple settled on the Thies family farm southeast of Mapleton and welcomed their three children: Shelly, Kelly, and Jim.
Jo Ann was a faithful member of St. Paul Lutheran Church of Ute where she was active in ladies aid. She also enjoyed reading, playing cards, going to coffee with friends, and treasured spending time with her family.
Left to cherish her memory are her husband of 61 years, Irvin Thies of Mapleton; children Shelly (Packy) DeMara of Sioux City, Kelly (Gary) McGathy of Wichita, KS, and Jim (Lisa) Thies of Mapleton; grandchildren: Phil (Dawn), Chris (Raelynn), Nick (Kourtney), Tonya, Alex, Amanda (Jake), and Alyssa (Brayden); great-grandchildren: Parker, Olivia, Chance, Nash, Wyatt, Haylie, Annabelle, Hazel, and Aiden; brother-in-law Gary (Maxine) Thies; nieces Carrie Huff and Laurie Johnson; extended family and friends.
Jo Ann is preceded in death by her parents Frank and Trace Wimer; sister Bunny Traver; and parents-in-law Rudy and Hazel Thies.