Arvin H. Kafton
1944 - 2023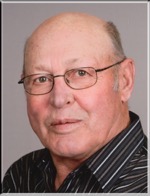 Arvin Herluf Kafton, age 78, of Mapleton passed away on Tuesday, January 10, 2023, at MercyOne Siouxland Medical Center of Sioux City.
Visitation and a vigil service were held on Friday, January 13, 2023, at Armstrong-Van Houten Funeral Home of Mapleton.
A Mass of Christian Burial was held at 10:30 a.m. on Saturday, January 14, 2023, at St. Mary's Catholic Church of Mapleton. Father William A. McCarthy officiated. Committal services followed at St. Mary's Catholic Cemetery of Mapleton.
The Armstrong-Van Houten Funeral Home of Mapleton was in charge of the funeral arrangements. Condolences may be sent online www.armstrongfuneral.com.
Arvin Herluf Kafton was born on December 21, 1944, to Herluf and Wilma (Tadlock) Kafton on a farm west of Mapleton. He attended school in Mapleton and graduated from Maple Valley High School in 1964. After graduation, Arvin joined the Army National Guard and served until 1970.
Arvin married his high school sweetheart, Carole Rauterkus, on October 16, 1965, at St. Mary's Catholic Church in Mapleton, where he was a member.
Arvin farmed his entire life in the Mapleton area. He was a man who enjoyed the simple pleasures of life, and farming was all he ever wanted to do. Besides running his John Deere equipment on the farm, you could find Arvin hunting, riding dune buggies and motorcycles at Timber Ridge, spending time with his family and friends, and camping. He was one of the many people that helped build the Rodney Pits into the Peter's Park that it is today.
Arvin is survived by his beloved wife Carole (Rauterkus) Kafton of Mapleton; three children: Terry (Stacy Brandon) Kafton of Mapleton, Brenda (Dan) Reimer of Danbury, and Brett (Jodi) Kafton of Mapleton; grandchildren Tammy (Riley) Kafton, Justin (Kelsey) Kafton, Toni (Darin) Specketer, Cady Helton, Riley (Dan TenEyck) Kafton, Sam Kafton, Brody (Karly) Kafton, and Bryce (Autumn Schreiber) Kafton; great-grandchildren Grace and Hope Specketer and Asher Kafton; brother Wayne (Zola) Kafton of Mapleton; sister Judy (Jim) Moore of Ft. Collins, CO; brothers-in-law Robert Rauterkus of Mapleton and Michael Schincke of Omaha; and sister-in-law Joan (Don) Heidzig of Aberdeen, SD.
He was preceded in death by his parents Herluf and Wilma (Tadlock) Kafton; son Troy Kafton; daughter Cindy Kafton; grandson Stephen Kafton; sister Arlene (Lyle) Woodward; sisters-in-law Diane Schincke and Donna Davis; and parents-in-law Gilbert and Helen Rauterkus.