Gloria "Jeanne" Meier
1943 - 2023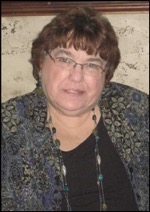 Gloria "Jeanne" Meier, age 79, of Danbury passed away on Monday, November 20, 2023, at her residence of Danbury.
A Visitation with Rosary and a vigil service were held on Sunday, November 26, 2023, at St. Mary's Catholic Church of Danbury.
A Mass of Christian Burial was held at 11:00 a.m. on Monday, November 27, 2023, at St. Mary's Catholic Church of Danbury. Father William McCarthy officiated. Committal services followed in the Danbury Catholic Cemetery.
The Armstrong-Van Houten Funeral Home of Mapleton was in charge of the funeral arrangements. Condolences may be sent online www.armstrongfuneral.com.
Gloria Jean Meier, the only child of Clarence and Kathleen (Koenig) Osweiler, was born on December 2, 1943, in Fort Dodge. She grew up in Pocahontas and attended Pocahontas Catholic School graduating with the class of 1962. After high school she attended St. Vincent School of Nursing in Sioux City, graduating in 1965 as a Registered Nurse. Gloria began working at the St. Vincent Hospital and for Dr. George Spellman.
On May 4, 1968, Gloria was united in marriage to Dennis Meier at the Sacred Heart Catholic Church in Pocahontas. Dennis was activated with the Army National Guard during the Pueblo Crisis in 1968 and they lived at Fort Carson, CO, for a year and then returned to Danbury. Gloria worked at the Hartley Memorial Hospital in Battle Creek. The couple was blessed with three children: Michael, John, and Julie. Gloria then took a break from health care and worked as a teacher's assistant at Danbury Preschool. In 1994 she began a 22-year career in mental health, working in community support services for Siouxland Mental Health until her retirement in 2016.
Family was the most important thing in Gloria's life. She treasured time spent with them. She also enjoyed baking, gardening, and canning, and she was a devoted Hawkeye fan.
Left to cherish her memory include her husband Dennis Meier of Danbury; children: Michael (Ann) Meier of Sioux City, John (Laura) Meier of Missouri Valley, and Julie (Michael) Scott of Plainview, NE; 12 grandchildren; 4 great-grandchildren; sister-in-law Mary Stewart of Mapleton; brother-in-law Ralph Kieffer of Andover, MN, special cousins and friends Dr. Neil and Bev Peterson; nieces, nephews, extended family and friends.
She was preceded in death by her parents Clarence and Kathleen Osweiler; grandparents; in-laws Philip and Helen Meier; brother-in-law Duane Meier; sister-in-law Phyllis Kieffer; and a special cousin Carol Weiss.