Thomas J. Thiel
1934 - 2022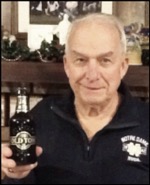 Thomas Joseph Thiel died in his home on May 4, 2022, at the age of 88.
Tom is survived by his children, Kevin, Lynne, Todd, Tim, Jeff, and Amy.
He is preceded in death by his wife, Helen.
Tom was born in Greeley, NE, in 1934. He was one of 14 children born to Joe and Clara Thiel. His family moved to Mapleton when Tom was 10 years old. He graduated from Mapleton High School in 1952. He met Helen Weber from Danbury, and they married in 1960. Tom worked as a truck driver hauling cattle and was co-owner of the world famous Mapleton pool hall, then known as Thiel's Recreation. He trained as a Refrigeration Mechanic and started his own HVAC business. There was not much work in a town of 1,800 people, and he considered buying his own farm to support his growing family. He heard The Boeing Company was hiring, so he went to Kansas, interviewed, and was offered a job on the spot. He seized the opportunity and moved with his wife and four children to the wild unknown of Renton, WA. After a few more years, the family grew to include six children. Tom was a steadfast provider who modeled loyalty, dedication, humility, and hard work.
Summer weekend getaways were important to Tom. He took his family camping where he taught his kids to fish and cook hot links. He took delight in driving up windy, dusty, gravel logging roads with his kids rolling around in the back of the truck. Every other year, the eight of them made a road trip back to the Midwest to see their extended family. When one child threw a teddy bear out the back, Tom let himself be swayed by the tears of his little boy, and turned around to get the battered bear. Tom continued to work for Boeing and retired at 60, because he knew he wanted time to really enjoy this next chapter of life.
In retirement, Tom and Helen visited family in Nebraska, Iowa, and California. They traveled to every state in the Union as well as Europe. Most of all, Tom loved to stay close to home and enjoyed visits with his children and eventually his eleven grandchildren and two great-granddaughters. He was a committed member of St. Stephen the Martyr Parish in Kent from the time of its groundbreaking. In his later years, he volunteered for its landscaping crew. He was fond of woodworking and enjoyed watching any old-time Western from his recliner with a beer in hand.
The funeral mass for Tom was scheduled for 11 o'clock on Wednesday, May 11th at St. Stephen the Martyr Catholic Church in Renton. Visitation and Rosary began at 10 o'clock, immediately preceding Mass. Father Ed White officiated.