MVAOCOU Students Published in Harvest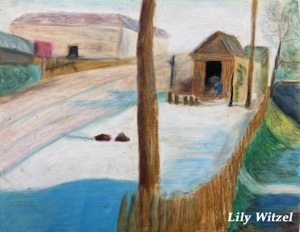 Every year, students are encouraged to submit their artwork and writing to Harvest Magazine, which is published by the Northwest Iowa AEA. After the work is submitted in November the students wait to hear what work was chosen to be published and they receive a copy of the magazine in May. It is an honor to be recognized and encourages students to continue to create. In the high school we had three students submit their work and all three were published in the 2022 Harvest.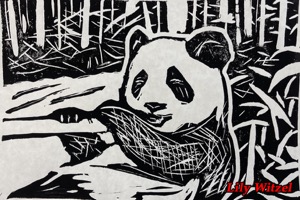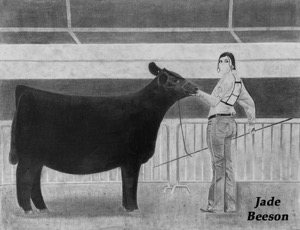 Senior Jade Beeson worked tirelessly on her hyper realistic charcoal drawing "Gloria." Jade was able to combine her passion of showing cattle and her incredible artistic talent in this drawing.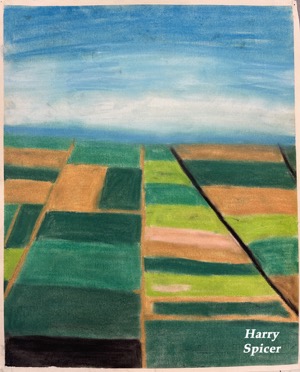 What I find most impressive about this work is Jade's ability to really "see" her proportions. She does not grid or use projections, which are commonly used tools in art production. Her brain maps everything out visually from photograph to paper and the results are stunning.
Sophomore Lily Witzel came to MVAOCOU this year from Las Vegas. She started the school year taking Intro to Art and her ability to create in a multitude of art mediums. Lily submitted a linoleum block print of the Giant Panda and a soft pastel landscape. A block print is an interesting technique that involves carving into linoleum with a gauge then printing the carved surface onto paper. This can be a challenging lesson because anywhere that you carve prints white and the untouched surfaces take the black ink, which is the exact opposite of a normal drawing on paper.
Freshman Harry Spicer submitted a soft pastel landscape titled "Big Fields". The easiest way to think about soft pastels are to imagine chalk that is highly pigmented. The positive of this medium is that you get a great range of color, the difficulty is layering the colors without getting them smeared or muddy in appearance. Harry was able to work the soft pastels in a way that created a dynamic atmospheric perspective drawing, capturing the beauty and diversity of our Iowa landscape.
Congratulations to these three hard working artists, I know we will see more great work from them in the future!